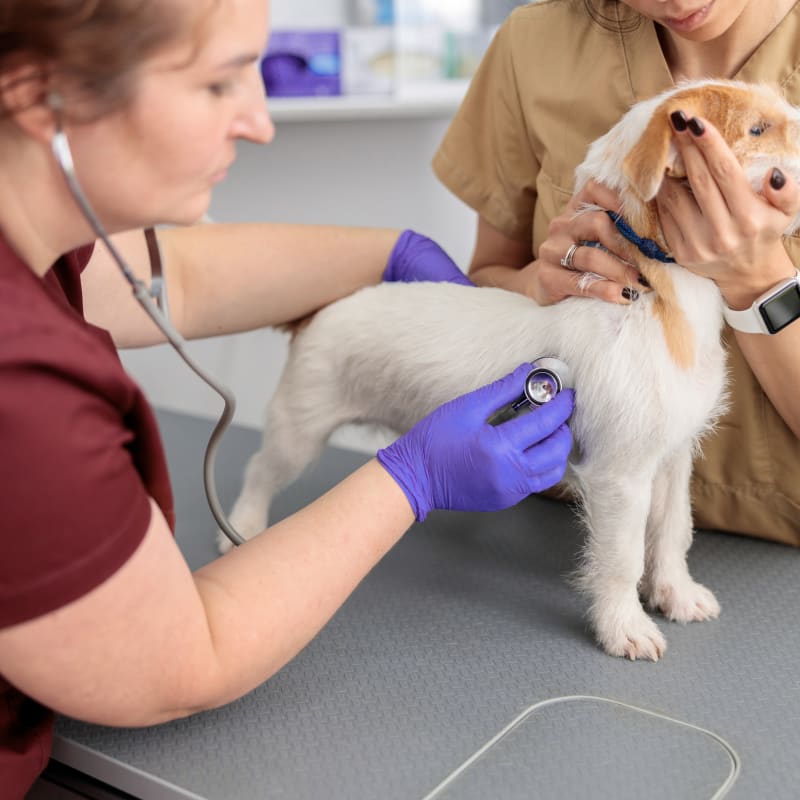 Pet Cardiology For Dogs & Cats in Nashua
At Animal Medical Center of New England in Nashua, our board-certified pet cardiologist is trained in the diagnosis and treatment of cardiovascular (heart and vessels) disease in pets.
This includes such disorders as congestive heart failure, hypertrophic cardiomyopathy, dilated cardiomyopathy, degenerative valve disease, systemic hypertension, arrhythmias, congenital heart disease, and cardiac tumors. 
Heart health issues and conditions can be very serious if not treated with appropriate knowledge and experience. Because of this, our specialists are here to work with you to protect your pet's health.
Our Pet Cardiologist
A veterinary cardiologist is a specialist that has advanced training in the heart and circulatory system. 
Why Veterinary Cardiology?
Although your family veterinarian can diagnose and treat many problems very well, there are some conditions that require specialized diagnostics and care to treat your pet.
A board-certified veterinary cardiologist has experiences, education, and tools that a general practice veterinarian won't be able to provide. Because of this, when faced with complex health issues affecting your pet's heart or circulatory system, it's best to ask about a referral to a board-certified cardiologist like Dr. Nate Deering. 
Common Signs of Heart Disease in Pets
At Animal Medical Center of New England, we can detect and identify the symptoms of heart disease in pets. It is important to be able to recognize the signs of heart disease in your cat or dog so you can get them treated as soon as possible in Nashua.
Here are some main signs of heart disease in pets for owners to look out for:
Coughing

If your pet is coughing, wheezing, or struggling to breathe, this can be a sign of heart illness. 

Abdominal swelling

Later stages of heart disease can lead to the buildup of fluid in the body from the weakening of the heart. This can cause your pet's stomach and abdominal area to swell or bloat.

Collapsing

Heart disease can lead to a lack of energy and decreased coordination. This also leads to shortness of breath and resistance to exercise.

If your cat or dog collapses seemingly at random, take them to a vet to check their heart health right away.
Evaluation of Heart Conditions
At your appointment, the cardiologist will perform a complete and thorough physical examination of your pet, and based on these initial findings, additional tests will be discussed.
They will also review your animal's health history and current medications. Depending on your pet's condition, diagnostic testing may include:
Echocardiography
Electrocardiography
Radiographic Evaluation
Blood Pressure Measurement